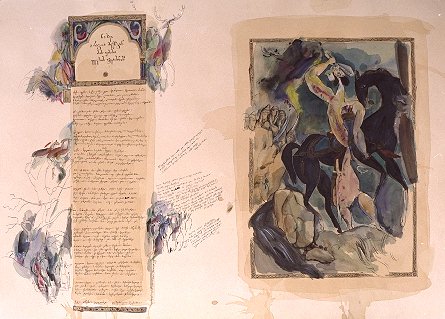 One of the particular highlights of this spring's Kakheti trip was a visit to the
Tsinandali
winery. I can't speak to the quality of the wines (although the idea of taking a drink in Romantic poet Alexandre Chavchavadze home was almost as luxurious as that of
havi

ng tea at George Sand's house
), but the house-museum itself (a sumptuous recreation of Alexandre's salon) was outstanding, featuring not merely records of Tolstoy, Pushkin, et. al., but also an exhibition of some quite fascinating modern art: illuminated manuscripts of
The Knight in the Tiger's Skin
by my (other) new favourite Georgian artist,
Alexandre Bandzeladze
: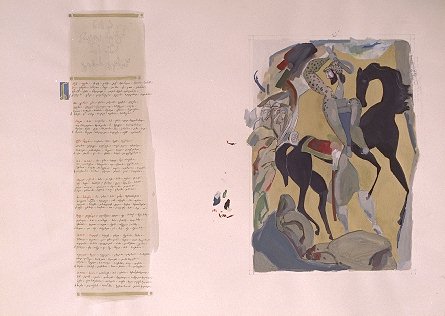 Bandzeladze, according to
his homepage
, at least, is to be considered "the founder and the spiritual leader of the abstract painters", representing the "avant-garde" in 1970's Georgia. I'm an absolute weakling when it comes to neo-illuminated mansucripts (Abramishvili had one in his exhibition, although I can't find a photo of it anywhere), as well as for artist-writer house museums, so I might be heavily biased in this case, but I was certainly impressed. Here, as with Abramishvili, much late-twentieth-century Georgian art seems to be actively engaged with the past canon in a way I find is missing in all too many pieces of contemporary Anglo-American art - it's certainly what draws me to it.