London is horrible. Let me establish this from the outset. Nothing will convince me that London is not an overpriced cesspool of filth and stale beer, constituted of identical chain-filled "High Streets" from which it is impossible to travel from one to the other without invariable Tube signal failures (two unplanned last weekend alone), where Health and Safety conspire to ruin any sort of enjoyment of life's myriad opportunities without remotely preserving health
or
safety, and where sandwiches contain more mayonnaise than filling.
Nothing, that is, except the
Victoria and Albert Museum,
which single-handedly caused me to research property prices in London for next year before realizing that the Very English Boyfriend and I don't fancy paying 400 quid apiece to share a tiny studio and a single bed in Brent Cross.
Best. Tea Room. Ever.
The V&A is, quite simply, a Best Thing Ever. Not only is it
free
, gorgeously laid out in a Great Nineteenth-Century Generalist way that allows for a combination of learning and sheer
awe
at the vast cultural repository of beauty the monarchy's managed to build up over the years. The VEB and I accidentally wandered into an expertly-given free tour entitled "Sex, Love, and Death in the Middle Ages" ("Super!" crowed the VEB, before making quietly English remarks about Sir Gawain and the plot of Hamlet - there are few places where being a Medievalist-turned-Shakespearean-actor is more useful than on a "Sex, Love, and Death in the Middle Ages" Tour at the V&A. In fact, it may be the only place being a Medievalist-turned-Shakespearean-actor remotely useful.) It was remarkable not only for the wealth of facts, but also guide's wonderful MiddleclassEnglishness ("should we be talking about sex on Sundays?")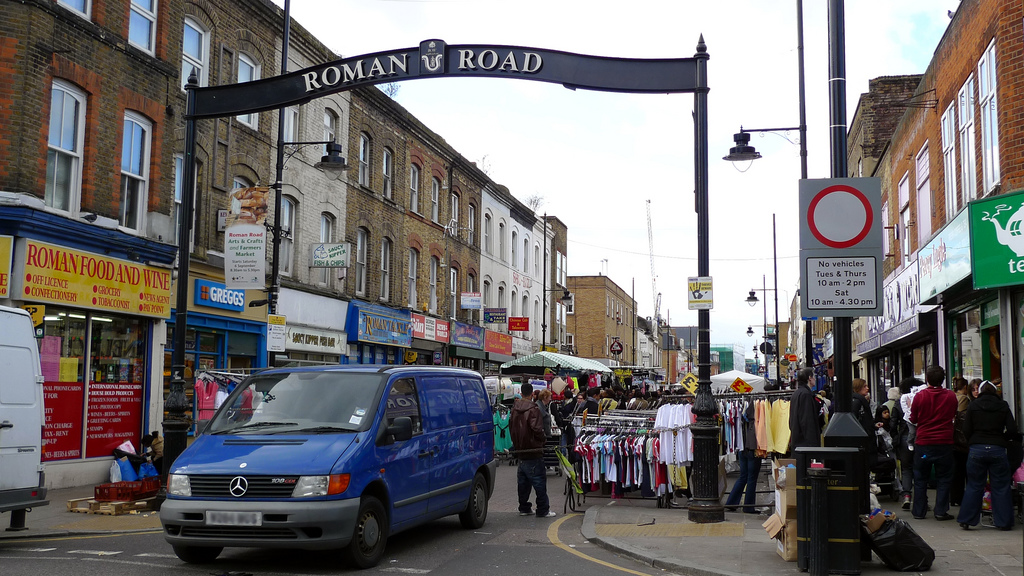 Also, there is
This Tea Room
, which has £2.50 cappucinos and £5 cream teas (reasonable for South Kensington, slightly higher than Oxford prices), and looks like the Pera Palace on crack. It's not just the sort of place to write a novel. It's the sort of place to write a bloody
epic.
It must have been the sun, however, because apparently the whole weekend consisted of
Not-Horrible Things in London
(tube delays excepted). The area around
Mile End Tube Station
is quite beautiful (we found a gorgeous Gothic church tucked away behind a residential street), unlike the seedy Bethnal Green - despite smelling like beer,
Roman Road
is filled with exciting second-hand shops (promising shoes, not my size) and a market that feels like a cross between Palermo and Istanbul (even if it gives the VEB agoraphobia), and
Victoria Park
has a marvelously inventive children's adventure playground that I very nearly started clambering on!
But that wasn't all! (What, you say?
More
nice things in London?) We also discovered that
Shoreditch
, once the site of one of our most disappointing nights out of all time (ten pounds for mediocre cocktails in a 1920's-themed "decadence" bar filled with staggering hen-nighters) is actually not that bad, despite being uniformly filled with hipsters sporting grubby fur coats, bright red lipstick, and no pants. We found an eclectic used booksale in front of Shoreditch Church, sat outside (!) drinking free refills of coffee at retro pancake house (and VEB's new "best thing in London")
Love Shake.
But perhaps our Very Best Thing in London (other, of course, than the V&A) was our inaugural visit to
Hampstead Heath,
one of the few London parks that doesn't feel depressingly manicurized. Enormous, sprawling, and possessed of a SWIMMING POND (albeit a rather small one you, predictably, have to queue for), Hampstead Heath lured us all the way from Debden for two visits in two days! It has grass, sunshine, a gorgeous pergola, and DEER in Golders Hill Park! FUZZY DEER! IN A DEER PARK! (along with a confused-looking rhea that isn't sure whether or not it's a deer)
Such a weekend would have been perfect had we been able to conclude it with falafel at Golder's Green. However, it was
Shavuot,
and we arrived to find everything remotely Hebraic in a two-mile radius closed...
Fleur's Verdict: London is not horrible in small doses, as long as it's sunny and the Tube doesn't break down and you don't have to eat anything. The V&A is amazing. Hampstead has a Hungarian patisserie. You can buy comfortable shoes for three pounds on Bethnal Green Road. The Overground is preferable to the Tube. People in Shoreditch don't wear any trousers.