The Hegel thesis is a few days away from submission, finals are approaching, postgraduate applications are pending, and looming over me is the promise of three, glorious free months.
...during which I will sleep in Bedouin caves, ascend the monasteries of Meteora, and write novels in the caves of Cappadocia! The arrangements have been made, and I plan to spend the first seven weeks of summer (along with a combination of surplus savings, graduation gifts, and birthday/Christmas presents) on a solo tour through the Middle East and the Balkans.
My itinerary looks something like this:
Late June:
Leave Tbilisi for Batumi; at Batumi change for Trabzon, Turkey. Spend a day or two pretending that I am in the ancient kingdom of Trebizond before embarking on a nearly 24-hour bus ride to Antakya, former Antioch (!), from which I will catch a bus to...
First Week of July:
Syria (visa permitting), where I'll indulge in my Orientalist tendencies by wandering through Aleppo, Palmyra, and Damascus. I shall also wag my finger at the Crusaders at the Krak as a means of preserving the honor of the Comneni and Byzantium! I haven't forgotten 1204, you scoundrels! (1453, eh, I'm not bitter. No hard feelings, Seljuks! But the FRANKS, on the other hand...)
Second Week of July:
Jordan, where I shall sleep alongside the Bedouins in Wadi Rum, wear a panama hat, ride a camel, and pretend to be T.E. Lawrence.
Third Week of July:
NOT ISRAEL. That's right, Syrian authorities, if you see this before giving me my visa, I have no intention at all of going from Aqaba to Eilat and Jerusalem! None! I'll be taking the boat from Aqaba, and NOT the bus from Jerusalem, to the Egyptian border at...
Totally NOT GOING HERE!
Fourth Week of July:
Taba, from which I head to Dahab before landing in Cairo. From Cairo to Luxor and back, until on the 30th, I make my way to Alexandria (which I have convinced myself is still a place of languorous doe-eyed women called Justine) to take the morrow's ferry to...
Early August:
Venice! As I am poor, and cannot afford Venice, I'll take the train onwards to my favorite haunt, and former home of my namesake Sir Richard Burton, Trieste, before bussing to Split.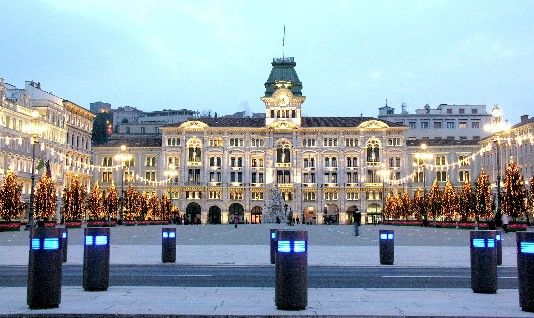 Somewhat more luxurious than a Bedouin tent
A few days in Hvar and Dubrovnik, then a mad dash down through Montenegro and Albania before catching the ferry from Saranda, Albania, to...
Orthodox monasteries!
Second Week August:
Corfu, Greece. Eventually I will reach the mainland, and from Athens I will make my way to Delphi, Meteora, and Thessaloniki, bussing back to...
Kas, Turkey
Third Week August:
Istanbul, where if all goes well I shall rendez-vous with my Very English Gentleman by the Hagia Sophia before washing off my Lawrentian (T.E., not D.H.) grime with a few days by the beach at Kas with the V.E.G. Then onwards to find the Cappadocian fathers at Goreme and back to Tbilisi, via Trabzon. Ideally, I shall kidnap the V.E.G. and keep him in Georgia until October, with side-excursions to Armenia and Svaneti.
I'm afraid I'll have missed one of the Pentarchy (having been to Antioch, NOT!Jerusalem, Constantinople, and Alexandria - four of the five great Sees of Christianity), but given that I've grown up in Rome, I feel rather comfortable sitting the See out this time 'round.
So, gentle and brutish readers, will this tiny, twenty-something blonde girl return triumphant from her intrepid adventures, newly-written novels in hand and skin browned with the blazing sun of adventures! Or will she crawl into a hole somewhere near the Der Mar Musa monastery and rot from dysentery/get kidnapped and sold into slavery/fall into the Grand Canal (the latter is most likely, especially if I am wearing heels)?
Help me avoid dysentery, abductions and Venetian water-beetles! Suggest itineraries, locations, travel tips, or - ideally - the home of your hospitable Israeli/Syrian/Jordanian/Albanian/Greek/Egyptian friends, who would be oh-so-glad to host a wandering novelist with grand presumptions of pilgrimage?