In between acquiring ingredients for my first dinner party (cooking for sixteen), which largely included buying ropes of onions, garlic, and peppers, and mewing back at the kitten in the shop, and frantically reading secondary scholarship on Hegel, I've taken a break to eat pie in the Bambis Riga branch of
Cafe Literaturuli
(which I refuse to believe I've completely missed for nearly a year; it's not signposted as such, and gets lost in a street filled with cafes. Its waiter looks like a haunted Romantic poet, and I've decided to be quite in love with him.) and blog about Abanotubani.
I'll devote future posts to other neighborhoods, including my old haunt of Sololaki, but I'd like to begin by pointing out that I'm quite convinced Abanotubani, the tiny tangle of streets around the Botanical Gardens, sulfur baths, mosque, and river, is the nicest neighborhood in the city! Let the rich expats have their Vake; the first thing I see when I step out of my courtyard is an ancient fortress! My "local" is an Iranian Chaikhana. When the hot water goes out, I treat myself to a spa, massage and private pool for about 20 pounds!
Or, more systematically:
The Top Five Benefits of Living in Abanotubani
I'll start with the most pressing,
My Land-family
I often refer to my "host family" in conversation, which isn't quite correct. Giostan, Tamriko, Alessandro, and Sophie are in fact my landlords, but they've been such a part of my life here that, at the least, "land-family" feels more apt. They ply me with Egyptian tea, fix my broken lights, inform carpet-sellers to give me reasonable prices, and - lately - surprise me with tiny ornament-laden Christmas trees on my doorstep, a very welcome reminder that I come from a place with snow, carols, and mince pies!
(This is also a shameless plug - a gorgeous 2-bedroom flat with a terrace view of the fortress is available in my building for $500 a month; if you're interested, contact me!)
The food
I'm not a massive fan of the expensive, sterile
Bread Cafe
, but Abanotubani has a fantastic spread of Georgian and foreign restaurants, from my beloved Chaikhana to the French
Salve
and
L'Accent Francais
on Abanos St (the latter is a wine bar, rather than a restaurant, but its inventive tapas are some of the best food I've had anywhere.) The brilliantly inexpensive
Alani,
a basement Ossetian restaurant with heaping portions and live music, is another favorite. I've yet to try elsewhere, but I will report back!
The strangeness
One of the things I've never understood is American expats who choose to live in Vake. It's a bit of a "Western" enclave, with plenty of high-end chain stores and elegant coffee houses, but architecturally it resembles a watered-down Central European city. Living there, I felt, often feels like pretending
not
to be in Georgia (I've struggled to find a Georgian restaurant there..), and while I enjoy the occasional meal there, I find living in Abanotubani to be a far more rewarding challenge - it looks
nothing
like anywhere I've lived, and life there is a constant re-negotiation of my own boundaries and expectations.
Also, it's just beautiful.
The baths
When I first moved into The Flat, my regret that the flat (like most others) lacked a bathtub. At which point I realized my
intense
stupidity. The Flat is about a minute's walk from the sulfur baths. I've been twice - both times with a friend - and while I found the "cheap" private room at the Orbeliani (blue) baths to be a bit uncomfortable, spending just a bit more at the Royal Baths allowed me to live the dream of Orient Express hammam decadence for an hour (during which my friend Caitlyn and I discussed the ironic hypothetical of creating historical fiction erotica involving a Grand Tourist and her chaperone in various escapades).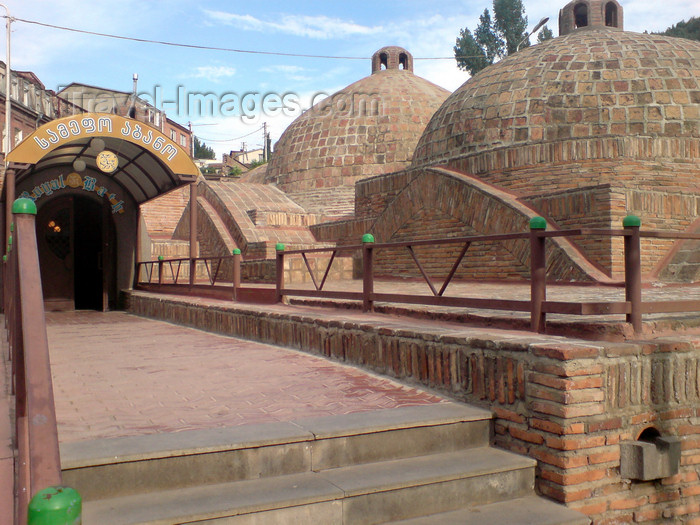 To be fair, the process involves getting naked with a female friend inside what looks like a giant breast. I've often wondered whether local children try to peek in through the slight windows at topless women below. If so, they would look rather like they were gathered at a giant teat, which would be an incredible image for an Almodovar film.
Puppies and Kittens!
Perhaps this is a reaction to my passionate hatred of
dirty, sterile, impersonal, dead-eyed London
, but I find Abanotubani so extraordinarily
alive
. There's a good number of stray dogs and cats here (who seem less "stray" than "neighborhood-raised" - they're remarkably well-fed and healthy looking), all of whom seem to live peacefully and contentedly - drinking out of fountains, mewing in my courtyard, and otherwise living entirely parallel existence to the humans who have dared to infringe upon their solitude. I've gotten to know a good number of the strays (and was very pleased to see that the kittens I met in Betelmi in September are now cats!), although I don't think I've rediscovered my beloved Marius, the kitten I fed khachapuri to on Baratashvili Street a few months ago.*
I love
hearing
life when I wake up in the morning - crickets, kittens, running water - all of it! It fills me with a Whitmanian joy in the glory of the world, and makes me want to stay in Tbilisi forever.
*I choose to believe that the kitten I met yesterday at the shop was, in fact, a better-fed Marius, adopted by the kindly woman who foisted 200 grams of chilli pepper on me!